Aerosmith
PEACE OUT The Farwell Tour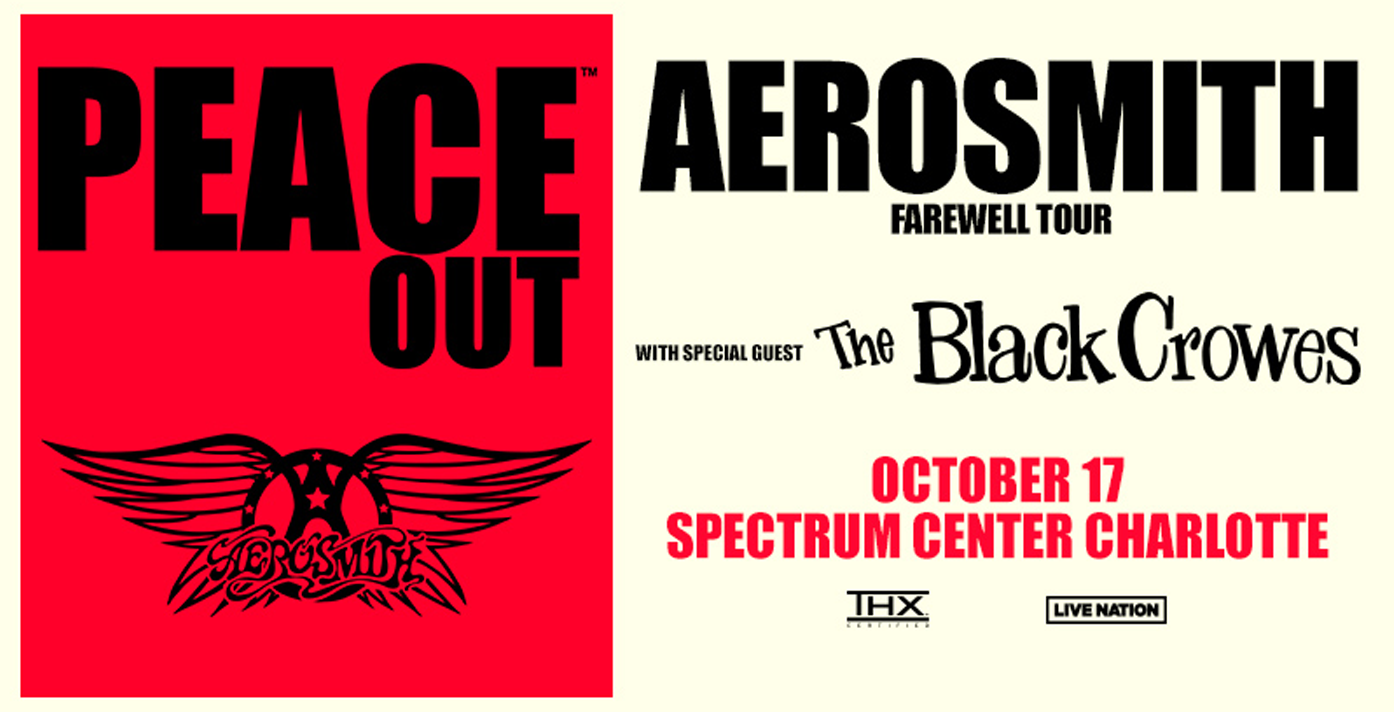 Aerosmith
PEACE OUT The Farwell Tour
AEROSMITH ANNOUNCE FAREWELL TOUR
"PEACE OUT"™
ROCK ICONS' HISTORIC LAST RUN
The Black Crowes Join As Special Guests
General On Sale Begins Friday, May 5 at 10AM Local on Ticketmaster.com
AFTER 50 YEARS
10 WORLD TOURS
AND PLAYING FOR OVER 100 MILLION FANS…
IT'S TIME FOR ONE LAST GO
Today, four-time GRAMMY® award-winning and diamond-certified rock legends Aerosmith have announced PEACE OUT™ with special guest The Black Crowes. Fans will see one of the most significant American rock bands in history one last time during this not-to-be-missed final tour. Every night will celebrate the five decades of Aerosmith's groundbreaking hits as they celebrate 50 years as America's greatest rock band. In addition, THX will bring their THX Certified Live! high-fidelity experience on the road, calibrating each arena with leading-edge technology so fans don't miss a beat of Aerosmith's classic rock tunes in quality audio.
In a joint statement, Aerosmith shared, "It's not goodbye it's PEACE OUT! Get ready and walk this way, you're going to get the best show of our lives."
Produced by Live Nation, the monumental 40-date North American tour will kick off in Philadelphia, PA, on September 2, with stops in iconic arenas across the U.S. and Canada, including Los Angeles' Kia Forum, New York's Madison Square Garden, Austin's Moody Center, Seattle's Climate Pledge Arena, Chicago's United Center, Toronto's Scotiabank Arena, and more before wrapping in Montreal, QC at Bell Centre on January 26. A highlight of the tour will be a stop in Boston for a special hometown show on New Year's Eve 2023.
TICKETS: General on sale begins Friday, May 5th at 10AM local time on ticketmaster.com.
VIP: The tour will also offer a variety of different VIP packages and experiences for fans to take their concert experience to the next level. Packages vary but include a premium reserved ticket, a personal photo opportunity with band members, limited edition merchandise and more. For more information, visit aerosmith.com/vip
The band also shared news of Joey Kramer's absence from this touring run. '"While Joey Kramer remains a beloved founding member of Aerosmith, he has regrettably made the decision to sit out the currently scheduled touring dates to focus his full attention on his family and health. Joey's unmistakable and legendary presence behind the drum kit will be sorely missed."
Most recently, Aerosmith wrapped their critically acclaimed Las Vegas residency, AEROSMITH: DEUCES ARE WILD, at Dolby Live at Park MGM. The electrifying 90-minute live performance took fans deep diving into Aerosmith's groundbreaking career with exclusive, unreleased audio and never-before-seen visuals from the band's archives produced by Oscar and Emmy-winning global visual effects studio Pixomondo.
Ahead of the residency, Aerosmith returned to their hometown in Boston to perform a record-breaking one-off show at Fenway Park as part of the legendary band's 50th anniversary celebrations. With over 38,700 people in attendance, it was the most tickets sold to date for a show at the iconic venue.
About Aerosmith
Celebrating their 50th anniversary, Rock & Roll Hall of Fame members Aerosmith have sold more than 150 million albums around the world, produced genre-defining music videos such as "Amazing," "Crazy," "Janie's Got A Gun," "Livin' On The Edge," and "Love In An Elevator," and launched extravagant record-shattering global tours, most recently with their smash hit Las Vegas residency. The band has broken numerous boundaries, including becoming the first rock band with a massive commercially successful hip-hop collaboration with Run DMC on "Walk This Way" and the first hard rock band to appear during a Super Bowl Halftime Show with their 2001 performance, and in 1999, Aerosmith became the first band to have their own themed attraction at Disney World in Florida and later Paris with the launch of the Rock 'N' Roller coaster starring Aerosmith. For more information, visit
Aerosmith.com.
About The Black Crowes
In 1990, when journalists were lamenting the death of rock, as cheesy pop and hair metal dominated the charts, Atlanta's Black Crowes gave the genre a swift and much needed kick in the ass with Shake Your Money Maker. Fueled by singles "Jealous Again," "Twice As Hard," "She Talks To Angels," and the break-through cover of Otis Redding's "Hard To Handle," the band immediately took the rock world by storm, topping Rolling Stone's "Best New American Band Readers Poll" in late 1990. The Black Crowes went on to release eight studio and four live albums, selling in the tens of millions along the way; they sold out shows around the world; had legendary guitarist Jimmy Page join as a member; got kicked off a tour with ZZ Top for insulting the sponsor; got screwed by bad record deals; got married and divorced, fought amongst themselves and against the rest of the world. In other words, they've done everything a legendary rock group should do.
About Live Nation Entertainment
Live Nation Entertainment (NYSE: LYV) is the world's leading live entertainment company comprised of global market leaders: Ticketmaster, Live Nation Concerts, and Live Nation Sponsorship. For additional information, visit www.livenationentertainment.com.
About THX® Certified Live!
Founded by film maker George Lucas, and today run by music industry veteran Jason Fiber, THX, remains true to its mission to truthfully deliver the artist's vision to audiences. THX is leveraging its 40 years expertise in acoustic design to optimize the state-of-the-art audio experience for the 40 city Aerosmith historical tour. THX works in partnership with production teams and sound engineers to optimize the audio system design, implementation and calibrate quality playback in acoustically hostile environments for live music performances. Through this process, THX Certification ensures concertgoers get the best acoustic experience possible at each large-venue event, faithful to the experience intended by this iconic band. For further information, please visit:
https://www.thx.com/certification/
About Hornets Sports & Entertainment
Hornets Sports & Entertainment owns the Charlotte Hornets, Greensboro Swarm and Hornets Venom GT, and operates Charlotte's Spectrum Center. The Charlotte Hornets are a member of the NBA's Southeast Division. Owned by NBA Legend Michael Jordan, the Hornets organization strives to deliver a relentless attack on the court, an unmatched experience in the stands and a positive impact throughout the community. The name of the city's original NBA team from 1988-2002, the Hornets moniker returned to Charlotte in May 2014, uniting the rich history of NBA basketball in the Carolinas. The Greensboro Swarm are the NBA G League affiliate of the Charlotte Hornets and play at the Fieldhouse at the Greensboro Coliseum Complex. Hornets Venom GT is the organization's esports team affiliate that joined the NBA 2K League in 2020. Spectrum Center is the premier destination for sports and entertainment in the Carolinas, hosting over 150 sporting events, concerts and family shows annually. For more information, please visit hornets.com, gsoswarm.com, HornetsVenomGT.com or spectrumcentercharlotte.com.