John Mayer
with Special Guest JP SAXE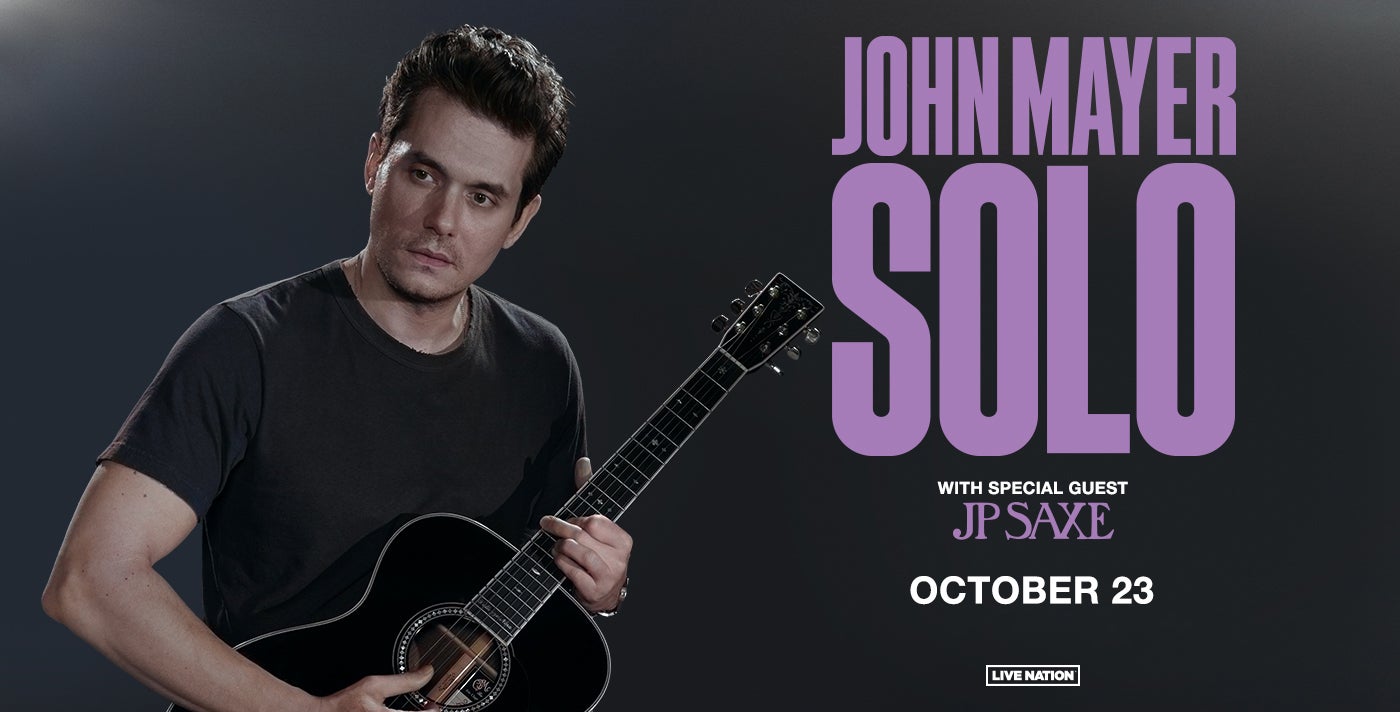 John Mayer
with Special Guest JP SAXE
JOHN MAYER EXTENDS HIGHLY ACCLAIMED SOLO ACOUSTIC ARENA TOUR
Fall 2023 Leg of Groundbreaking Tour coming to Spectrum Center Charlotte on October 23
Tickets On Sale Starting Friday, March 31st, at 9 AM
Due to the tremendous success of his current and groundbreaking solo acoustic tour, trailblazer John Mayer has extended the tour through fall 2023 with a stop in Charlotte.
The highly acclaimed tour, produced by Live Nation, features solo performances by Mayer, leaning heavily on his acoustic guitar work with special performances on piano and electric guitar, in arenas throughout the U.S, with UK and European dates to be announced soon.
Known for an effortless blend of mind-blowing guitar playing, soulful voice and impeccable songwriting abilities, Mayer has lit up the charts with numerous massive hits such as "New Light," "Gravity," "Love on the Weekend," "Heartbreak Warfare," "Daughters," "Waiting on the World to Change," "Last Train Home," and "Your Body Is a Wonderland." The 2023 tour has been 20 years in the making and will feature rare, full acoustic sets from John Mayer performing these songs, and many more. Multi-platinum GRAMMY® nominated singer-songwriter JP Saxe will open the fall concerts.
"The results were nothing less than breathtaking, two hours of raw, peerless wonder."
-Asbury Park Press
"…this night was a well-deserved reward. The room felt small, like a rehearsal space, like a private showcase only intended for friends and family."
-NJ.com
"But what is very clear is Mayer's ability to make an arena feel intimate with his song catalogue and gifts as a musician."
-Music Radar
"(John Mayer) has never been more sentimental or more vulnerable,
and he's never felt so personal on stage."
-Live for Live Music
There's nobody quite like John Mayer. He has emerged as a GRAMMY® Award-winning artist, celebrated songwriter, and iconic guitar player all at once. The Bridgeport, CT native introduced himself on the quintuple-platinum Room For Squares in 2001 and has earned three #1 debuts on the Billboard Top 200 with the triple-platinum Heavier Things [2003], double-platinum Battle Studies [2009], and gold Born and Raised [2012]. In addition to selling over 20 million albums worldwide and gathering billions of streams to date, he has garnered seven GRAMMY® Awards, including "Song of the Year" for "Daughters," and has earned a record seven U.S. No. 1s on Billboard's Top Rock Albums chart and 25 entries on the Hot Rock Songs chart, the most for any solo artist. In 2015, Dead & Company was founded, with Mayer on lead guitar as well as vocals. Since its formation, the band has completed seven tours, playing to four million fans, and has become a record-breaking stadium act. In 2021, Sob Rock, Mayer's eighth studio album was released to critical acclaim featuring the hits, "Last Train Home" and "Wild Blue."