Kendrick Lamar
The Big Steppers Tour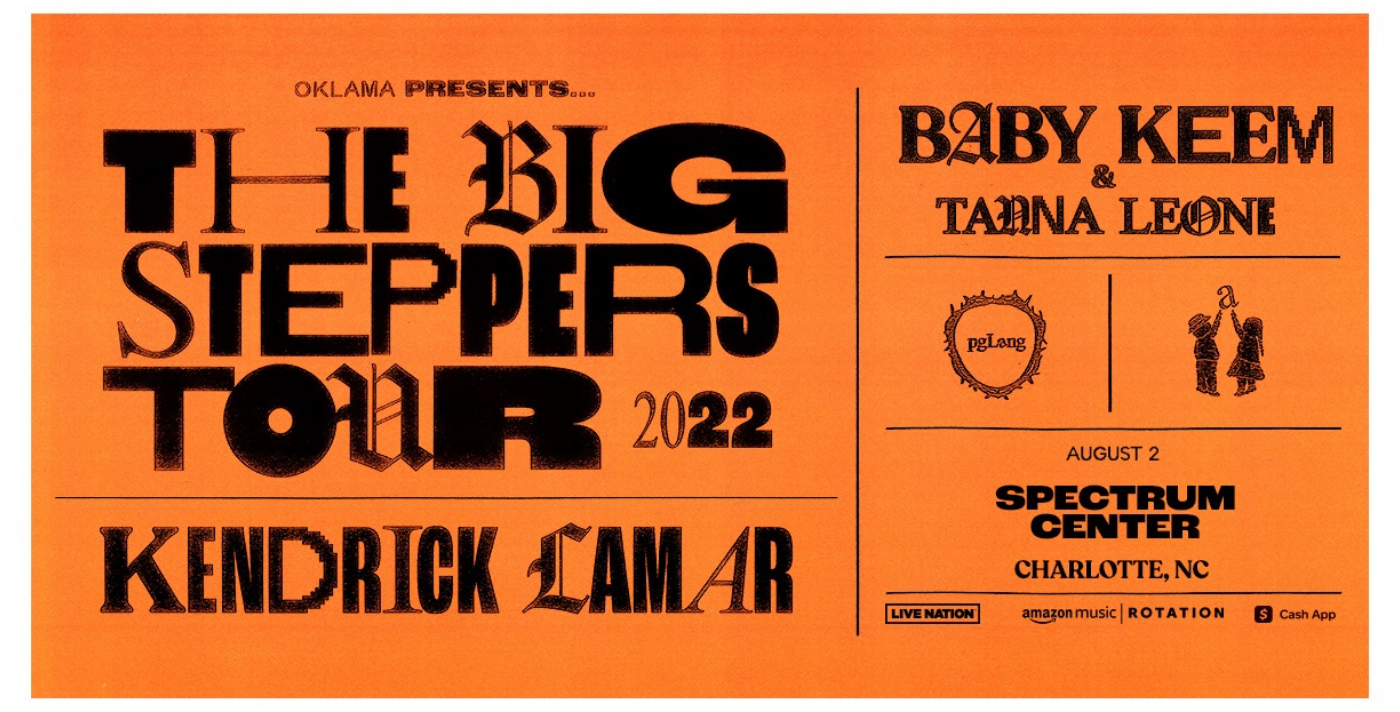 Kendrick Lamar
The Big Steppers Tour
KENDRICK LAMAR ANNOUNCES THE BIG STEPPERS TOUR
May 13, 2022 – Kendrick Lamar is taking the global stage once again for The Big Steppers Tour, sponsored by Amazon Music, Rotation and Cash App. Support will include Baby Keem on all dates and Tanna Leone on select dates.
Kendrick Lamar will bring The Big Steppers Tour to Charlotte's Spectrum Center on Tuesday, August 2. Tickets will go on sale to the general public beginning Friday, May 20, at 12 p.m. at spectrumcentercharlotte.com, ticketmaster.com or oklama.com.
For all shows in the U.S., the first tickets to The Mr. Morale & the Big Steppers Tour will be available to Cash App customers via an exclusive ticket presale. Beginning Thursday, May 19, at 10 a.m. through 10 p.m. local time, new and existing Cash App Cash Card holders can unlock the special presale and purchase tickets by using the first nine numbers of their Cash Card on Ticketmaster and completing the purchase immediately. Anyone can download Cash App and sign up for a free Cash Card instantly via cash.app/download. Both new and existing Cash App customers can easily fund their accounts to cover the total purchase amount and unlock the earliest access to the tour.
About Live Nation Entertainment
Live Nation Entertainment (NYSE: LYV) is the world's leading live entertainment company comprised of global market leaders: Ticketmaster, Live Nation Concerts, and Live Nation Sponsorship. For additional information, visit https://www.livenationentertainment.com/
About Amazon Music
Amazon Music reimagines music listening by enabling customers to unlock millions of songs and thousands of curated playlists and stations with their voice. Amazon Music provides unlimited access to new releases and classic hits across iOS and Android mobile devices, PC, Mac, Echo, and Alexa-enabled devices including Fire TV and more. With Amazon Music, Prime members have access to ad-free listening of 2 million songs at no additional cost to their membership. Listeners can also enjoy the premium subscription service, Amazon Music Unlimited, which provides access to more than 90 million songs and the latest new releases. Amazon Music Unlimited customers also now have access to the highest-quality listening experience available, with more than 90 million songs available in High Definition (HD), more than 7 million songs in Ultra HD, and a growing catalog of spatial audio. Customers also have free access to an ad-supported selection of top playlists and stations on Amazon Music. All Amazon Music tiers now offer a wide selection of podcasts at no additional cost, and live streaming in partnership with Twitch. Engaging with music and culture has never been more natural, simple, and fun. For more information, visit amazonmusic.com or download the Amazon Music app.
Rotation is Amazon Music's flagship hip-hop/R&B brand, encompassing the Rap Rotation and R&B Rotation playlists and stations, which spotlight the best hip-hop and R&B tracks from rising newcomers and established heavyweights. Curated by Amazon Music's hip-hop and R&B experts, Rotation is Amazon Music's home for the most important new music, livestreams, and events for hip-hop and R&B fans around the globe.
About Cash App
Cash App is redefining the world's relationship with money by making it more relatable, instantly available, and universally accessible. Through our financial ecosystem of products for consumers, Cash App offers an easy way to send, spend, invest, and save to anyone who has ever sought an alternative to the traditional banking system. Loved by customers and pop culture, we currently serve over tens of millions of monthly active users. Download Cash App for free at cash.app/download
About Hornets Sports & Entertainment
Hornets Sports & Entertainment owns the Charlotte Hornets, Greensboro Swarm and Hornets Venom GT, and operates Charlotte's Spectrum Center. The Charlotte Hornets are a member of the NBA's Southeast Division. Owned by NBA Legend Michael Jordan, the Hornets organization strives to deliver a relentless attack on the court, an unmatched experience in the stands and a positive impact throughout the community. The name of the city's original NBA team from 1988-2002, the Hornets moniker returned to Charlotte in May 2014, uniting the rich history of NBA basketball in the Carolinas. The Greensboro Swarm are the NBA G League affiliate of the Charlotte Hornets and play at the Fieldhouse at the Greensboro Coliseum Complex. Hornets Venom GT is the organization's esports team affiliate that joined the NBA 2K League in 2020. Spectrum Center is the premier destination for sports and entertainment in the Carolinas, hosting over 150 sporting events, concerts and family shows annually. For more information, please visit hornets.com, gsoswarm.com, HornetsVenomGT.com or spectrumcentercharlotte.com.