CANCELED: Ms. Lauryn Hill & The Fugees
Miseducation of Lauryn Hill 25th Anniversary Tour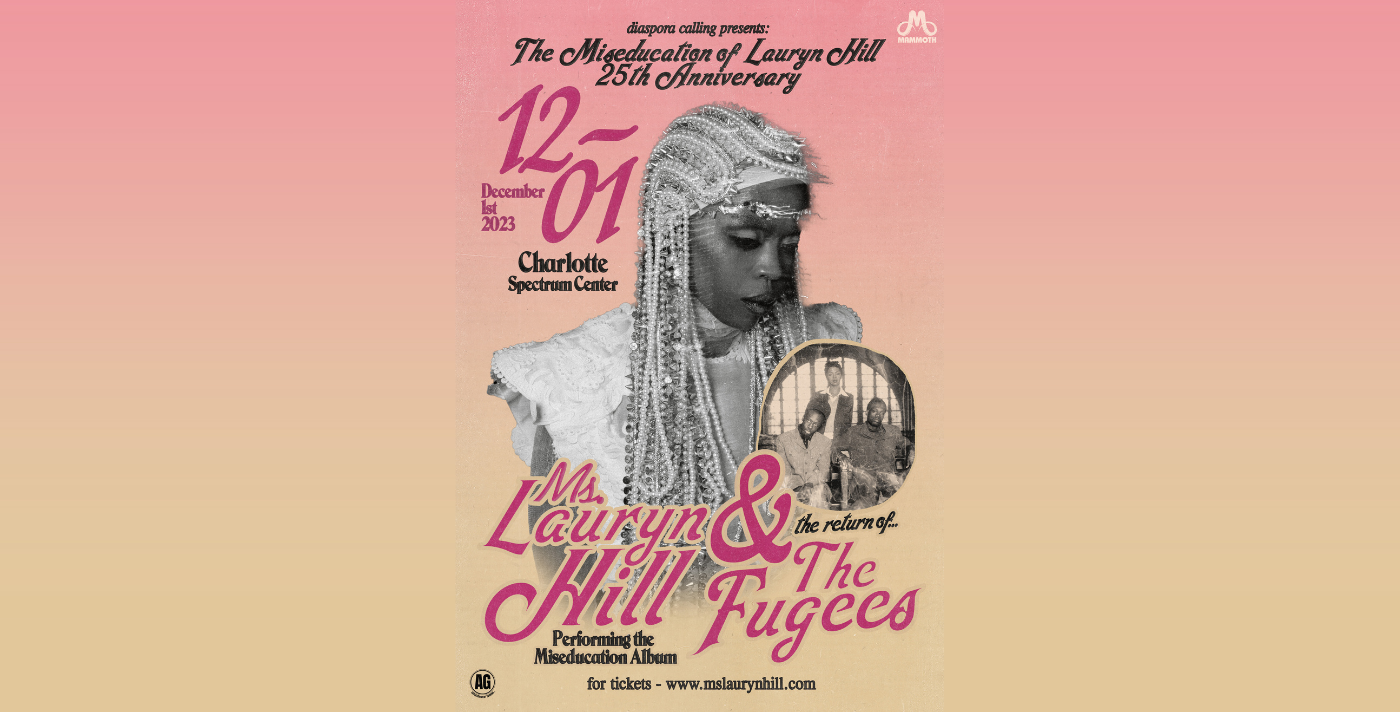 CANCELED: Ms. Lauryn Hill & The Fugees
Miseducation of Lauryn Hill 25th Anniversary Tour
CANCELED
MS. HILL ADDS NEW DATES TO THE MISEDUCATION OF LAURYN HILL 25TH ANNIVERSARY TOUR DUE TO OVERWHELMING DEMAND
FUGEES TO CO-HEADLINE US DATES
BROOKLYN, WASHINGTON DC, CHICAGO, LA, OAKLAND, AND SEATTLE SHOWS SOLD OUT
Coming off a triumphant Global Citizen Festival headline set where the 5x Grammy winner surprised fans by bringing out Fugees for part of the show, Ms. Hill has now announced additional dates to her upcoming The Miseducation of Lauryn Hill 25th Anniversary Tour due to overwhelming demand. Newly added dates include Vancouver, San Francisco, Detroit, St. Louis, Atlanta, Nashville, Charlotte, Tampa, Miami, and Boston. Brooklyn, Washington DC, Chicago, both LA, Oakland, and Seattle shows are sold out (full dates below). All North American dates will be co-headlined by Fugees.
Ms. Hill notes the importance of the tour, extending the dates, as well as the lasting impact made by both the album and Fugees: "I've almost felt compelled to carry a torch or to keep a light shining regarding the continual performance of the Miseducation album. I believe there's been a reason for that—and the Fugees coming back together for performances too feels like unfinished business we're destined to handle. The connections are real and uncanny, and the magic and synergy between us has not been deterred by time. I believe the messages that we and the art we made embody something moving, meaningful and important for us and for the world.
We gave voice and image to possibilities that emblazoned so many musical directions after us. As we were inspired, we also inspired countless artists who have shown up to express themselves in this musical space. Both the Miseducation and the Fugees' material challenged and expanded convention, by paying homage to the past, while richly embracing the present, and emblazoning the trail for the future. We represent not just ourselves but our influences and our peers who took art, culture and inspiration very seriously—- who reshaped the landscape for ourselves and for those who would follow after us. I'm grateful to be able to celebrate this classic material and re-present it to an audience in this time."
Wyclef continues:
"I can't wait to hit that stage with my band mates. No one will wanna miss this. It's what I call lighting in a bottle."
Pras adds:
"Reuniting with Ms. Lauryn Hill and Wyclef Jean for the Miseducation Tour is a full circle moment. Lauryn's profound lyricism and mastery of hip hop, reggae, and soul created an undeniable masterpiece with The Miseducation of Lauryn Hill. Combined with our groundbreaking album The Score, this body of work shaped the soundtrack of a generation. It represented a renaissance of culture, politics, and spirituality in hip hop. I'm honored to reunite on stage and pay tribute to Lauryn's immense talent and timeless music. I look forward to celebrating with fans worldwide who have supported us for over 25 years. This tour is about the power of music to leave an indelible impact."