Naismith Basketball Hall of Fame Shootout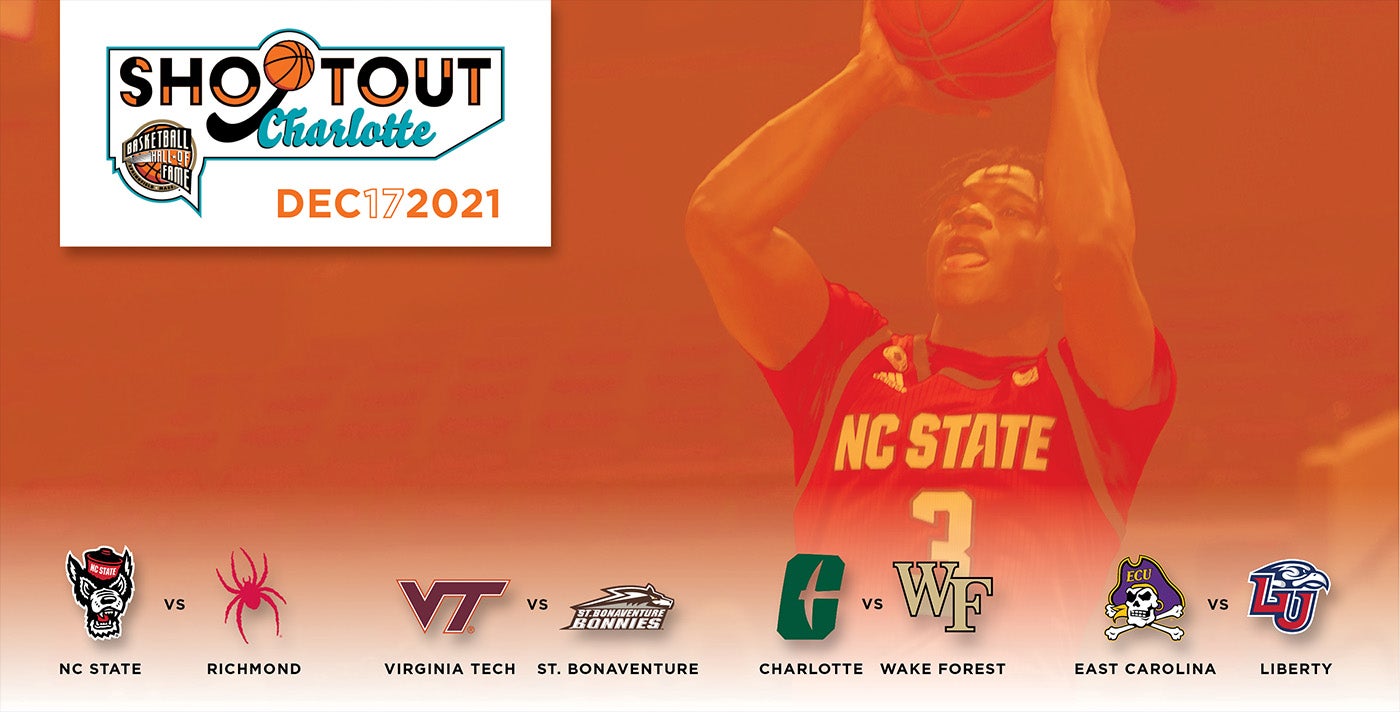 Naismith Basketball Hall of Fame Shootout
INDIVIDUAL GAME SCHEDULE
1:30 PM - East Carolina vs. Liberty (ESPN+)
4:00 PM - St. Bonaventure vs. Virginia Tech (ESPN2)
6:30 PM - North Carolina State vs. Richmond (ACC Network)
9:00 PM - Wake Forest vs. Charlotte (ACC Network)
Charlotte, NC (June 3, 2021) – The Naismith Memorial Basketball Hall of Fame announced today the field of teams for the first-ever Basketball Hall of Fame Shootout to be held at Spectrum Center on Friday, December 17, 2021. The one-day quadruple-header will feature North Carolina State vs. Richmond, Virginia Tech vs. St. Bonaventure, Charlotte vs. Wake Forest and East Carolina vs. Liberty. Game times, ticket information and television broadcast details will be released at a later date.
"We're very excited to be launching a collegiate event in North Carolina, a state known for its tremendous basketball history," said John L. Doleva, President and CEO of the Basketball Hall of Fame. "Spectrum Center is a fantastic NBA venue in a terrific basketball community, and we're excited to provide this unique opportunity to eight collegiate teams and their fans this fall."
The Basketball Hall of Fame Shootout is one event in the Hall of Fame's series of collegiate events, which continues to grow in an effort to celebrate the game outside the museum walls. The Naismith Memorial Basketball Hall of Fame is proud to continue its relationship with Learfield IMG College for sponsorship representation of its portfolio of collegiate events and Position Sports in an event operations and media relations capacity.
As the health and safety of the athletes, fans and staff is of the utmost importance, the Basketball Hall of Fame will continue to monitor the COVID-19 situation closely in the coming months and provide updates as needed.
Quotes from Participating Head Coaches
"We are excited and honored to be a part of the Basketball Hall of Fame Shootout and even it's more special that we can play right here in front of our hometown fans. Our guys are looking forward to competing against an ACC opponent in the Spectrum Center, a first-class venue right in our own backyard. It will be a great day of college basketball in the Queen City." - Ron Sanchez, Charlotte
"We're extremely excited to be part of the Hall of Fame Shootout and the opportunity to challenge ourselves against a well-coached Liberty squad. Playing in Charlotte, which is home to one of our largest alumni bases, at a first-class facility like Spectrum Center is an added bonus." - Joe Dooley, East Carolina
"Liberty is honored to play in such a prestigious event such as the Hall of Fame Shootout. This game affords our players the opportunity to play in a tournament-like atmosphere against an exceptional opponent in East Carolina." - Ritchie McKay, Liberty
"We're thrilled to play in the Basketball Hall of Fame Shootout at the Spectrum Center in Charlotte. Richmond is one of the top programs in a great league and will be a very challenging opponent for our team. The Basketball Hall of Fame always puts on a great event and it's exciting for our fanbase to have it in Charlotte where so many Wolfpack fans can attend." - Kevin Keatts, NC State
"We're thrilled to be a part of the Basketball Hall of Fame Shootout. Finding high-quality games to fill our non-conference schedule is one of our top priorities and one of our most challenging tasks each offseason. Having the chance to play North Carolina State at an NBA venue like the Spectrum Center is a great opportunity, and our entire program is looking forward to facing the Wolfpack in Charlotte." - Chris Mooney, Richmond
"We are very excited about the opportunity to play Virginia Tech in Charlotte this December. This game gives us another great challenge on our non-conference schedule against an ACC team that is on the rise and extremely well-coached. Being in Charlotte and an area that is filled with St. Bonaventure alumni, we look forward to playing in an arena full of Brown and White. We know Bona Nation will be on full display and showing their Bonnies pride at the Hall of Fame Shootout." - Mark Schmidt, St. Bonaventure
"We look forward to competing in the Basketball Hall of Fame Shootout in Charlotte this upcoming December. We certainly have a challenging matchup with the reigning A-10 champion, and I have the utmost respect for Coach Schmidt and the job he's done up there in New York. I also hope our fans will be able to make the trip to Charlotte. The Spectrum Center is a great venue and location for a high-level basketball tournament right before the holidays." - Mike Young, Virginia Tech
"Our team is excited to play in Charlotte and I have a lot of respect for Coach Ron Sanchez and the program he is building at Charlotte. It is special to be associated with the Naismith Memorial Basketball Hall of Fame and I was lucky enough to be in attendance to see the best power forward of all time be inducted a few weeks ago. Wake Forest is proud of Tim Duncan and excited for this matchup in December." - Steve Forbes, Wake Forest
Following recent guidance from the CDC and local health officials, and until further notice, MASKS ARE REQUIRED for individuals at least 5 years of age at all times while in Spectrum Center, except when ACTIVELY eating or drinking at the guest's designated seating location. All employees and visitors MUST wear a cloth face mask covering both the nose and mouth.

By attending, you agree to follow all arena policies, including health and safety policies, and posted instructions while in the arena and on arena grounds.