Winter Jam 2023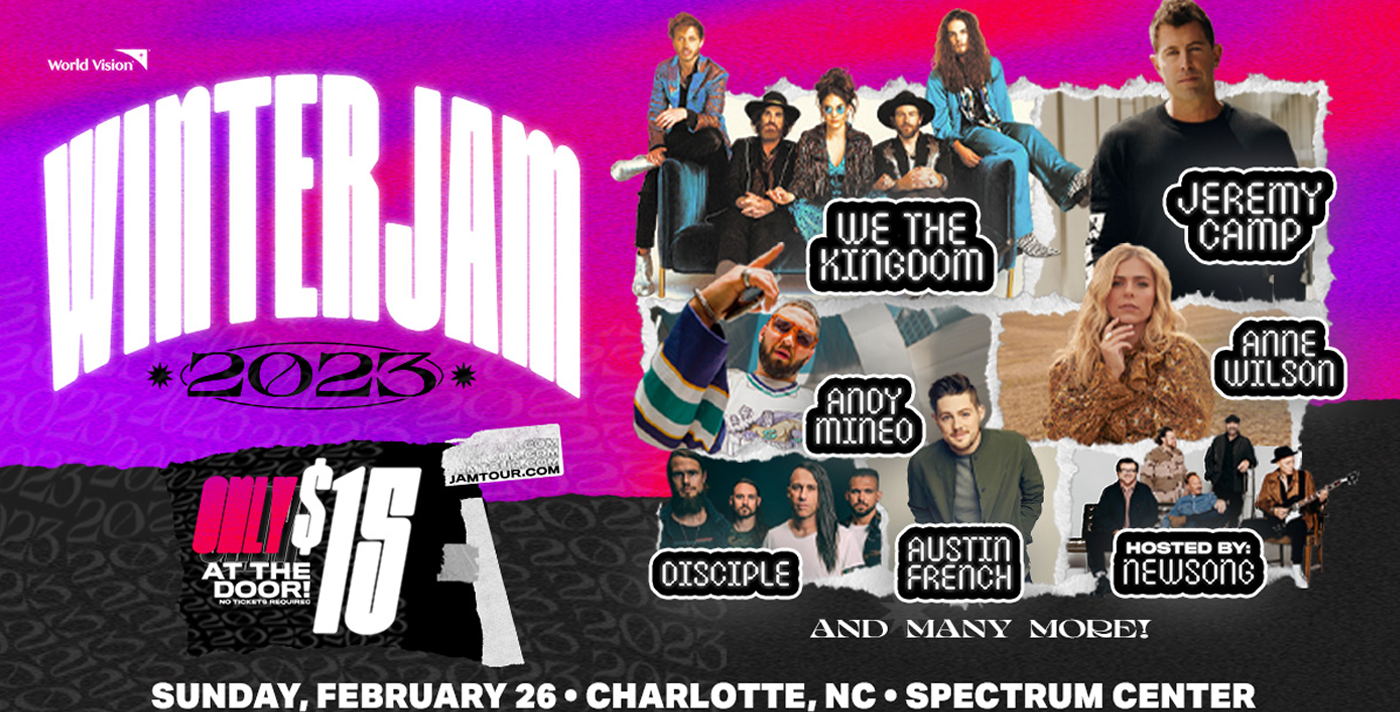 Winter Jam 2023
WE THE KINGDOM & JEREMY CAMP
TO HEADLINE 2023 WINTER JAM TOUR ALONG WITH ANDY MINEO, ANNE WILSON & MORE
$15 DONATION AT THE DOOR IN 40 CITIES
NASHVILLE, Tenn. (October 25, 2022) –– World Vision presents Winter Jam Tour, hosted by Newsong & produced by Premier Productions, Christian music's biggest tour, is back for 2023 with headliners We the Kingdom and Jeremy Camp and a solid lineup of acts including Andy Mineo, Disciple, Austin French, NewSong and featuring for the first time Dove Award-winning new artist of the year Anne Wilson.
"I can't wait for Winter Jam 2023," said Eddie Carswell, Co-Founder of NewSong Ministries & Winter Jam. "I'm so excited about the lineup this year. I think it's one of my all time favorites. I'm excited to have some people we haven't toured with as much like We The Kingdom, Anne Wilson, and Disciple. Also, it's always great to be back with long time friends like Jeremy Camp, Austin French and
my ping pong buddy Andy Mineo. Bring your youth group, your family, your friends; these will be nights you don't want to miss!"
We The Kingdom will join Winter Jam following their Fall 2022 tour and the release of their new namesake album We The Kingdom. The band received the awards for Contemporary Christian Artist of the Year and Pop/Contemporary Album of the Year for Holy Water at the 2021 GMA Dove Awards and is known for #1 songs like "Holy Water" and "God So Loved."
"We are SO incredibly excited to announce that we are going to be a part of Winter Jam 2023," said We the Kingdom. "Several of us grew up going to Winter Jam - what a powerful time to unify together and let the love and hope of God be poured out in the room over every heart each night. We are so looking forward to getting to play some new songs off our new record as well as some familiar ones. Every single artist or band on this roster is incredible and we are so excited to get to partner together with them. Thank you, Winter Jam, for having us - we could not be more grateful. We'll see YOU out there this winter! Let the party begin!"
Jeremy Camp is a chart-topping, Grammy-nominated artist with 40 number one hits. He is known for songs like "I Still Believe," "Walk By Faith" and current hit "Keep Me In The Moment" and is the subject of the 2020 inspirational biopic I Still Believe. Jeremy joins the tour following the release of his 2021
album When You Speak and his Fall 2022 tour.
"I always look forward to touring with many of my favorite bands on Winter Jam," said Jeremy Camp. "The community that Winter Jam provides and cultivates is always encouraging to my group and I love that their heart for the Gospel and reaching people are always front and center of what they do!"
Winter Jam kicks off this year's tour on January 13th in Tampa, FL and will hit a total of 40 cities around the country including, Columbus, OH; Nashville, TN; Oklahoma City, OK; St. Louis, MO; Atlanta, GA; Charlotte, NC; before heading to the northwest for the first time in five years with stops in Boise, ID; Tacoma, WA; Portland, OR, and Spokane, WA.
Winter Jam's Pre-jam party will be led by Thrive Worship, Sean Be and RENEE. Pastor and author Zane Black will be the speaker. No tickets are needed and admission is $15 at the door.
For more information, visit jamtour.com. For a full list of dates and cities, see below.
About Winter Jam:
Winter Jam was founded over 20 years ago by Christian music group NewSong. The tour has stayed true to its original mission of low donation at the door to allow as many people as possible to hear the gospel. Winter Jam has consistently ranked in Pollstar's top tours and has taken the number one spot several years. Promoted by Premier Productions, the tour hits the road again in 2023.
About Premier Productions:
Founded in 1996, Premier Productions has sold over 20 million tickets to patrons. Premier has been a Top 20 global promoter and has produced more than 2,000 concerts and events in the past five years. Pollstar named Premier the #1 faith and family independent promoter in the last 10 years. Producing events that move the soul both nationally and internationally, Premier is proud to have helped raise more than $271 million to improve the lives of children and communities in 100+ countries worldwide. Whether it's a large multi-day festival, sold-out concert or intimate conference, Premier seeks to positively impact the lives of every attendee so they leave encouraged, happy and hopeful. Premier is currently promoting acts including Hillsong UNITED, Dude Perfect, Lauren Daigle, Hillsong Worship, Baby Shark, Casting Crowns, Chris Tomlin, Sadie Robertson, Elevation Worship, Kari Jobe Bethel Music and many more.
About We The Kingdom:
We The Kingdom was organically formed at a Young Life camp in Georgia while leading worship together. The 2020 GMA Dove Awards New Artist of the Year has garnered 180M global streams to-date and has landed three singles on the top 10 charts on Christian radio including their hits "Holy Water," "God So Loved," and "Don't Tread on Me." Additionally, the group was nominated for The 2021 GRAMMY Awards for Best Contemporary Christian Music Performance/Song and Best Contemporary Christian Music Album. We The Kingdom has been featured in YouTube's Artist on The Rise Series, appeared on Pandora's Predictions Chart for several weeks, Spotify's Viral 50 and Shazam's Top 200 Chart. We The Kingdom's sound is a unique blend of worship, vulnerability and grit that points people to a transforming experience with Jesus. Their debut EP was released in the Fall of 2019.
About Jeremy Camp:
Throughout his 18-year career, Capitol CMG artist Jeremy Camp has established himself with landmark accolades including: Over 5M lifetime albums sold and has crossed a billion streams across streaming services
Holds title for most No. 1 singles among solo artists on the Christian Airplay chart
Billboard's #2 artist of the Decade in 2010
41 No. 1 radio hits across all formats
5 RIAA Gold Albums
1 GRAMMY® nomination, 3 American Music Award nominations, 5 Dove Awards and 4 ASCAP "Songwriter of the Year" Awards.
Friday, January 13, 2023 Tampa, FL
Saturday, January 14, 2023 Mobile, AL
Sunday, January 15, 2023 Jacksonville, FL
Thursday, January 19, 2023 Grand Rapids, MI
Friday, January 20, 2023 Cincinnati, OH
Saturday, January 21, 2023 Knoxville, TN
Sunday, January 22, 2023 Charleston, WV
Thursday, January 26, 2023 Peoria, IL
Friday, January 27, 2023 Lexington, KY
Saturday, January 28, 2023 Columbus, OH
Sunday, January 29, 2023 Ypsilanti, MI
Thursday, February 2, 2023 Fort Wayne, IN
Friday, February 3, 2023 Nashville, TN
Saturday, February 4, 2023 Duluth, GA
Sunday, February 5, 2023 St. Louis, MO
Thursday, February 9, 2023 Evansville, IN
Friday, February 10, 2023 Des Moines, IA
Saturday, February 11, 2023 Indianapolis, IN
Thursday, February 16, 2023 Council Bluffs, IA
Friday, February 17, 2023 Wichita, KS
Saturday, February 18, 2023 Bossier City, LA
Sunday, February 19, 2023 Tulsa, OK
Thursday, February 23, 2023 Reading, PA
Friday, February 24, 2023 State College, PA
Saturday, February 25, 2023 Greensboro, NC
Sunday, February 26, 2023 Charlotte, NC
Thursday, March 2, 2023 Springfield, MO
Friday, March 3, 2023 Kansas City, MO
Saturday, March 4, 2023 Oklahoma City, OK
Sunday, March 5, 2023 Southaven, MS
Friday, March 10, 2023 Birmingham, AL
Saturday, March 11, 2023 Greenville, SC
Sunday, March 12, 2023 Tupelo, MS
Friday, March 17, 2023 Raleigh, NC
Saturday, March 18, 2023 Louisville, KY
Sunday, March 19, 2023 Little Rock, AR
Thursday, March 23, 2023 Boise, ID
Friday, March 24, 2023 Tacoma, WA
Saturday, March 25, 2023 Portland, OR
Sunday, March 26, 2023 Spokane, WA
Additional Ticket Information