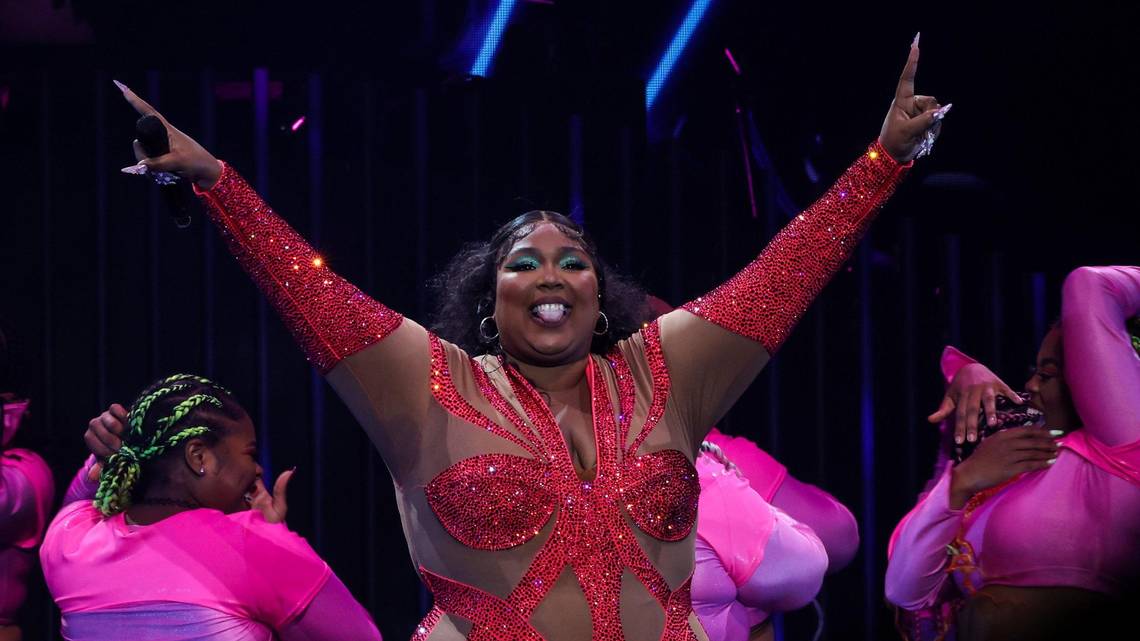 Feb

10

/ Friday
At Lizzo's Charlotte show: Tattoo templates, twerking, TikToks ... and flutes with BBLs?
If Lizzo had come to Charlotte and just performed the 26 songs she performed without taking a breath in between any of them, fans still would have walked away with huge smiles on their faces, buzzing about her lovely live vocals, her effortless effervescence, and her drop-dead delightful Big Grrrl dancers.
The concert also would have been 20, 25, maybe even 30 minutes shorter.
That's because a Lizzo concert like the one the hip-hop-pop star delivered Thursday night at Spectrum Center as part of her "Special Tour" was not just a concert.
It was, of course, a celebration of body positivity, feminism, self-love, women's empowerment and her very favorite word — "bitch." But as much as anything else, it was a full-on participation sport for the 16,000 screaming, shouting, laughing, crying, sing-a-long-ing fans packed into the arena.
Exhibit A: After finishing off "Coldplay," her 2022 tribute to the "baby-making" power of the Chris Martin-led band's song "Yellow," Lizzo surveyed the general-admission section around the catwalk and started reading aloud from the many signs being shoved into the air.
Lizzo, sign my leg so I can get a tattoo,'" was the first one she shouted out. "How are we gonna make this happen?" A stagehand gave her the "Are-we-doing-this?" look, and she nodded. "Yeah, yeah, yeah ... let me sign the leg."
While she waited on those arrangements, she continued scanning. "'Lizzo for President 2024,'" was the one the 34-year-old spotted next, immediately quipping, "I think I'm too young. But one day I won't be, bitch!" Another: "'My Sick A-- Got Here at 6:30 a.m.' Oh my God. Oh my God. We coulda did our meditation twerk together. That's what time I get up! I get up at 6:30 and do a meditation twerk. It's like —"
Without missing a beat, the singer — wearing a loose-fitting glitter top over a sparkly bodysuit — got low and got busy thrusting her hips ... at which point the tattoo-wanting woman startled her mid-twerk, by grabbing her from behind and planting a kiss on her cheek (to be clear, the one on Lizzo's face and not the one on Lizzo's, um, rear).
Lizzo squatted again to sign, but because of a bad camera angle, all we could see on the big screen was that she drew a heart and the word "bitch" in all caps. Messily, by her own admission. "Oh gosh, I might be ruining your leg!" Things got a little awkward when the fan seemed to not be ready to leave at the time the stagehand wanted her to; from where I sat, it looked like the guy practically had to drag her off the stage.
But all that was quickly forgotten when Lizzo read the next sign: "'Five Years Purge Free.'" She didn't finish it, but it also must have said "You Saved My Life," because Lizzo shook her head as she choked up slightly and told the woman, "You saved your life. You saved your life." This time the camera operator nailed the shot, of the woman, with tears streaming down her face.
Total time spent: 3-1/2 minutes.
Exhibit B: Sandwiched between new song "I Love You Bitch" and the last song of the main set before the encore, her 2016 anthem "Good As Hell," Lizzo seemingly spontaneously decided to create a TikTok with the help of the entire crowd.
I don't know what the dance she picked is called, exactly (and I must not be a total idiot, because I asked my 21-year-old daughter and she didn't know either), but it's the one where you hunch forward, clench your fists, and slowly make a motion with your arms like you're running.
The plan involved a tight shot of her doing it followed by a wide panning shot of everyone in the packed arena doing it. The choreography was simple. For whatever reason, though, the technology was giving Lizzo fits. It took help from her DJ, Sophia Eris, and a reshoot to get the job done.
"I'm so challenged tonight," she said, giggling, as she fumbled to activate the rear-facing camera on her phone. "What's wrong with me??"
Finally, she — and we — nailed it. "This will be on TikTok immediately," she shouted. And it was.
Total time spent: 4-1/2 minutes.
And a side note: When a stagehand handed Lizzo her phone, a fan apparently asked her what the photo was on her lock screen. "It's me and my man kissing!" she blurted. Her current boyfriend, for the record, is actor Myke Wright.
Exhibit C: After a showstopping rendition of her all-time biggest hit, "Truth Hurts," and after basking in 47 seconds of applause and screams, Lizzo called for the house lights to be turned on. She then proceeded to make a connection with not one, not two, not 20, not 30, but literally more than a hundred individual fans by calling them out based on what they were wearing.
"I see you in the black vest with the white long sleeves!"
"I see you in the lime-green in the back!"
"I see you with the tinsel!"
"I see you with your baseball shirt!"
"What's that sash say? 'I'm 100% That BRIDE!' Congratulations!"
Total time spent: 6-1/2 minutes.
Speaking of total time spent ... look, I know that's a lot to dedicate to documenting stuff that doesn't have much to do with Lizzo's singing or dancing, or the setlist, or the staging (which somehow, it is worth noting, manages to be a splendiferous display — of bright lights, bold colors and striking video visuals — without the use of a single pyrotechnic effect or shred of confetti).
I could write a whole essay about her all-female, all-people-of-color supporting cast, from her nine-member team of larger-and-more-athletic-than-average dancers (aka the Big Grrrls) to her four-piece live band (The Lizzbians) to her three backup singers (The Little Bigs) to her DJ/emcee (Eris).
I could write another about the sometimes barely-there outfits Lizzo puts on her plus-sized frame, and the effect seeing her wear things like that has on individuals who've spent much of their lives feeling insecure or ashamed of their bodies.
Or yet another about the messaging she tightly weaves into the fabric of her entire show. ("I love you. You are beautiful. And you can do ANYTHING!" was a familiar overarching refrain.)
But I think it's important to recognize an artist who doesn't seem like they're just trying to hit their marks and get on to the next city. Who genuinely looks like they're having fun. Who can quickly identify what might stand out as "A Moment" for her fans and commit to it on the fly, and who then lets that moment really breathe.
That's a tricky thing to do in the age of arena shows, where everything needs to be timed just right so that the headliner can finish up by the kind of loosely-agreed-upon industry-standard wrap-up time of 11 p.m.
Lizzo, though, makes it look easy. And so even in a concert packed with knockout performances of a laundry list of killer songs, fans today are probably talking as much about what happened between the music as they are about the music itself.
Like when she welcomed onto the stage Charlotte native Charity Holloway — who was featured on the Emmy Award-winning Amazon Prime Video reality series "Lizzo's Watch Out for the Big Grrrls" — for what exploded into a hyper-active solo dance by Holloway that climaxed with her going down into a full split.
"Sure was some hoe activity she was displaying," Lizzo said, laughing, after Holloway jogged off stage. "Sometimes I feel like it's my fault. I feel like I'm turning Big Grrrls into hoes. Am I turning Big Grrrls into hoes, Charlotte? Or am I turning Big Grrrls into Emmy winners?"
(Later in the set, Holloway returned to dance again, as Lizzo and then the crowd serenaded her with "Happy Birthday." "She didn't know we were gonna do that tonight. It's really her birthday!" Lizzo exclaimed.)
Or like when Lizzo finished one of her three flute solos on the night, this one at the end of "Coldplay," and implored the crowd to "Make some noise for Sasha the Flute!" (Her instrument, named after Beyonce's "I Am Sasha Fierce," has its own Instagram account.)
She then yelled, "The most famous flute with a BBL!" As the crowd roared. Lizzo laughed and shook her head. "I love how every night I say, 'The most famous flute with a BBL!' and people just cheer." (Can I assume she means Brazilian Butt Lift? If so, that is an objectively hilarious joke.)
Or like when someone handed her a Charlotte Hornets jersey with a sequined No. 22 on the front and back, and zig-zag stitching holding the sides together. "Anybody, if you know, you know I be running away from mother------- hornets and bees," Lizzo said, laughing again. "But I like this jersey!"
Or like when ... I mean, I could go on and on. But I think I'm running over time here.
Read more at: https://www.charlotteobserver.com/entertainment/music-news-reviews/article267537887.html#storylink=cpy