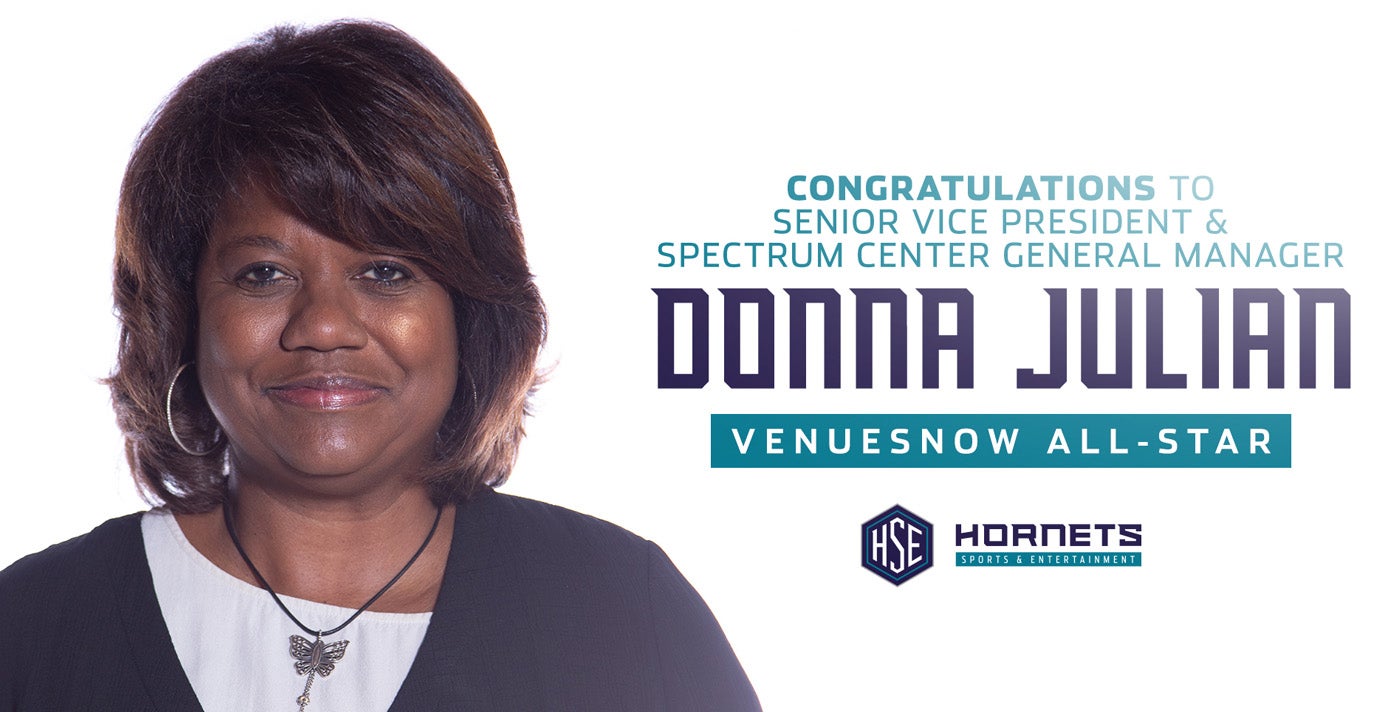 Sep

13

/ Friday
Donna Julian Named To Inaugural VenueSnow All-Stars List
Spectrum Center General Manager Honored By Industry Publication
September 13, 2019 – Hornets Sports & Entertainment Senior Vice President & Spectrum Center General Manager Donna Julian this week was announced as part of the inaugural list of VenuesNow All-Stars, in which the industry trade publication honored 50 people and places "changing the face of the venues business."
According to the magazine, the list represents sectors from across the business, including venue management; branding, sponsorship and sales; architecture and construction; concessions; technology; operations and security; and ticketing. It also includes commissioners, building and franchise owners, college officials and content executives. Factors that were evaluated included documented excellence, innovation, financial success, commitment to diversity and leadership in their field.
Julian's recognition comes in a year in which Spectrum Center hosted NBA All-Star Weekend in February and the ACC Men's Basketball Tournament in March. In 2020, the arena will be the site of the Republican National Convention. Having previously hosted the Democratic National Convention in 2012, Spectrum Center will be the first venue to host both parties in a span of three-or-fewer election cycles since the Miami Beach Convention Center hosted the RNC in both 1968 and 1972, along with the DNC in 1972.
A member of the team that opened Spectrum Center in 2005, Julian is in her 14th year with the organization and has served as the venue's lead executive since 2008.
"It is an honor to be recognized with such an elite group of individuals from all facets of the venue business," said Julian. "This is a testament to the quality of work our team does at Spectrum Center and the success we have had with great shows and events of all types."
Spectrum Center continues to bring the best in sports and entertainment to Uptown Charlotte. This weekend the arena hosts comedian Trevor Noah on Saturday, followed by WWE's Clash of Champions on Sunday. Additional upcoming events include Disney on Ice (September 20-22), Guns N' Roses (September 25), Phil Collins (September 29), Elton John (November 6) and the Jonas Brothers (November 20), along with the 2019-20 Hornets season which begins October 23.