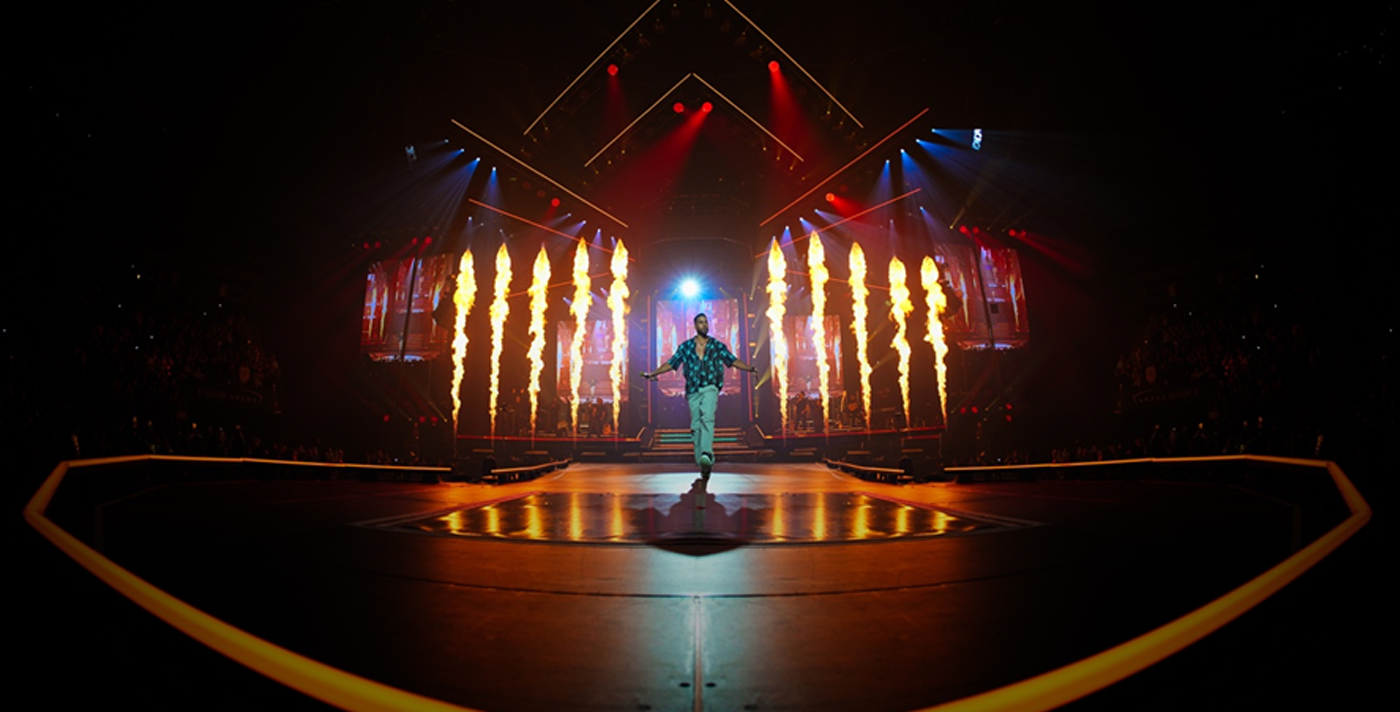 Nov

1

/ Wednesday
Romeo Santos "Formula Vol. 3 Tour" Has Record-Breaking Weekend In Nashville, TN And Charlotte, NC
Santos holds records for highest grossing events and most tickets sold by a Latin artist at Nashville's Bridgestone Arena and Charlotte's Spectrum Center
(Charlotte, NC) – Romeo Santos "The King of Bachata" continues to shatter records on his Formula Vol. 3 Tour with historic weekend in Nashville, Tennessee and two back-to-back shows in Charlotte, North Carolina.
Romeo Santos' October 27, 2023, concert at the award-winning Bridgestone Arena in Nashville, Tennessee has smashed records set by a Latin artist. With 12.7k tickets sold and over $1.75M in gross revenue, Santos' Formula Vol. 3 Tour now holds the records for the highest grossing concert and most tickets sold by a Latin artist at the 'Smashville' arena, surpassing the previous records set by Marco Antonio Solis on October 13, 2023.
Promoter Outback Presents, the Formula Vol. 3 Tour's North American Promoter currently holds three records at the prestigious Bridgestone Arena – highest grossing Latin concert [Romeo Santos], highest attended Latin concert [Romeo Santos], and highest overall attendance [Nate Bargatze] with 19,365 fans.
"This was truly a great night of entertainment in Nashville. It was wonderful to see a record setting crowd at Bridgestone Arena for Romeo Santos. Thank you to the fans and everyone involved for making this event possible." – David Kells, Chief Venues Officer Bridgestone Arena
Santos continued on to set new milestones in Charlotte, North Carolina by performing to 25k fans during his astonishing double-header event at Spectrum Center on October 28 and 29. With the record-breaking events grossing a combined $3.6M, Romeo Santos has set the bar at the Hornets' arena for most tickets sold by a Latin performer and highest grossing Latin performer to date.
This Summer, Santos, who is represented by UTA's David Zedeck, Mike G, Nigel Meiojas, and promoter Outback Presents, obtained two new records by having the highest-grossing concerts by a Latino artist in a single night at Citi Field in New York and at Loan Depot Park in Miami, FL. In addition, the global icon and barrier-breaker was recently ranked by Billboard Boxscore list as one of the highest grossing artists in the history of the music industry. The extraordinary reception of his music is undeniable proof of his enduring impact in the industry and his connection to the hearts of his fans.
"The King Stays King, so proud to be part of this venture, and to see how Romeo Santos continues to make and break records throughout his career. FV3!"- Artie Pabon Management Team
The highly successful "Formula Vol. 3" tour has taken Romeo Santos to the largest and most influential stadiums and arenas in the United States, Puerto Rico, Europe and Latin America, breaking countless records and positioning the global superstar as an icon of Latin music. The North American leg continues this week in Baltimore, Maryland on November 2 and concludes in Toronto, Ontario on November 25. With the remaining North American tour dates in extremely high demand, the Formula Vol. 3 Tour is anticipated to break even more records by the tour's end.
Remaining Formula Vol. 3 North American Tour Dates
Nov 2 CFG Bank Arena Baltimore, MD
Nov 3 Santander Arena Reading, PA
Nov 5 Capital One Arena Washington D.C.
Nov 6 TD Garden Boston, MA
Nov 7 TD Garden Boston, MA
Nov 8 Prudential Center Newark, NJ
Nov 10 Barclays Center Brooklyn, NY
Nov 12 State Farm Arena Atlanta, GA
Nov 14 Amway Center Orlando, FL
Nov 15 Amalie Arena Tampa, FL
Nov 16 Hard Rock Live Hollywood, FL
Nov 19 Hard Rock Live Hollywood, FL
Nov 22 Bell Centre Montreal, QC
Nov 25 Scotiabank Arena Toronto, ON
About Romeo Santos:
Known as "The King of Bachata," Romeo Santos is a record-breaking global icon within the Latin music industry as a singer, songwriter, performer, mogul, actor and producer. With more than two decades with a solo artist career and chief producer, and song-writer in the legendary group Aventura, Santos has developed a formula of infusing bachata, R&B, Hip-hop and Latin urban. Romeo is called the "King of Bachata" for placing a genre based from the Dominican Republic (where his father is from - his mother is from Puerto Rico) to a blended genre that has exposed the traditional sound with his New York City upbringing in the Bronx to the world. Throughout his career, Romeo has achieved in developing a "Spanglish" tone and crossing-over top international artists into his bachata blend such as Justin Timberlake, Usher, Drake, Lil Wayne, Akon, Nicki Minaj, Carlos Santana, Marc Anthony, Bad Bunny, ROSALÍA, Enrique Iglesias and many more. Santos has over 100 million singles and 40 million albums, he has won a stunning 17 Billboard Latin Music Awards, 8 Premio Lo Nuestro Awards, 2 Premios Juventud Awards, 4 Guinness World Records, 2 Latin American Music Awards, 4 ASCAP Awards, 1 BMI Award, and 1 MTV VMA Award. Currently, "Formula Vol.3," his fifth solo album, is multi-platinum for its sales and currently obtains +1.1B streams. Today, Romeo is one of the most listened to Latin artists on Spotify and viewed on YouTube. Recently, he announced his tour, "Formula Vol. 3 - The Tour" in Europe and South America for 2023, which with the first few dates broke records in sales in stadiums within Lima, Peru, Chile, where he sold out 8 stadium dates and in Madrid, Spain for three sold out nights. Throughout his career, Santos was the first Latin artist at a young age to sell out multiple nights at the most iconic stadiums in the world such as Yankee and MetLife Stadium. In addition, he is an accomplished visionary to have appeared in films such as "Furious 7" and "Angry Birds". With the Latin music market being global today, Romeo continues to strive as one of the leading forces in music and has set the pavement for today's young Latin artists evolving the Latin music industry globally.
About Outback Presents:
Outback Presents is the leading independent, full-service promoter of live entertainment. From their home base in Nashville, TN, Outback Presents specializes in producing music and comedy shows, tours and festivals across North America and connecting their diverse roster of artists with their fans. For more information, visit www.outbackpresents.com.
About Hornets Sports & Entertainment
Hornets Sports & Entertainment owns the Charlotte Hornets, the Greensboro Swarm (NBA G League), Hornets Venom GT (NBA 2K League) and operates Spectrum Center, the premier destination for sports and entertainment in the Carolinas. The first major professional sports franchise in the Carolinas, the Charlotte Hornets are celebrating the 35th Anniversary of their inaugural season during the 2023-24 NBA campaign. HSE creates spectacular fun and memories that marvel for the more than 1.2 million people who visit Spectrum Center annually, and positively impacts the Carolinas through community programming and the Charlotte Hornets Foundation. For more information, please visit hornets.com, gsoswarm.com, HornetsVenomGT.com