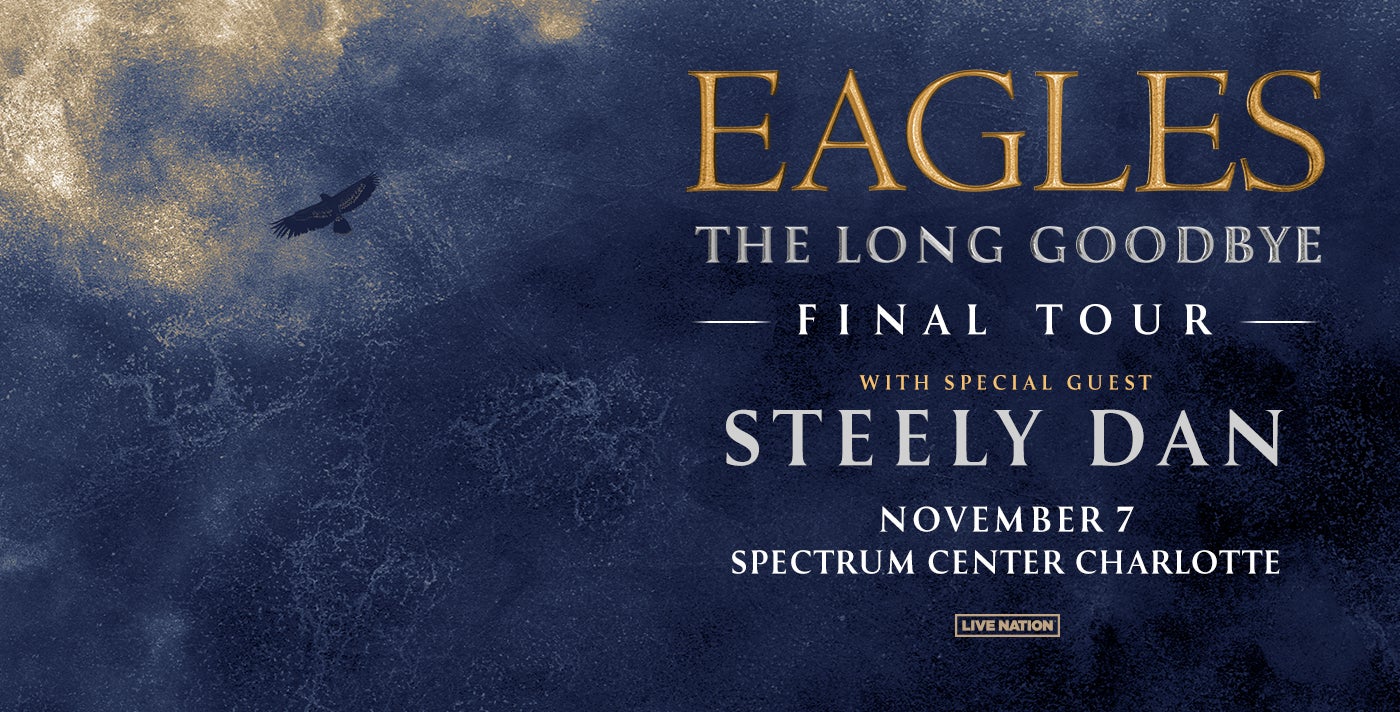 July

6

/ Thursday
The Eagles to perform in Charlotte on upcoming final tour: 'The time has come'
CHARLOTTE, N.C. — After more than 50 years of touring and selling out arenas worldwide, rock icons the Eagles are taking it to the limit one more time. The legendary band announced their upcoming "The Long Goodbye" will be the band's final tour.
The Eagles announced 13 dates for their upcoming farewell tour, including two shows in North Carolina. The Eagles will perform at Spectrum Center in Uptown Charlotte on Tuesday, Nov. 7, before performing in Raleigh on Nov. 9 for what's expected to be their final North Carolina concert. They'll be joined by another iconic rock band, Steely Dan, for their farewell tour.
"We know how fortunate we are, and we are truly grateful," the band said in a statement. "Our long run has lasted far longer than any of us ever dreamed. But, everything has its time, and the time has come for us to close the circle."
The band, which includes longtime members Don Henley, Timothy B. Schmit and Joe Walsh, as well as Vince Gill and Deacon Frey, the son of legendary Eagles singer and guitar player Glenn Frey.
Presale tickets and VIP packages will be available through Live Nation starting Wednesday, July 12. General on-sale tickets will be available at 10 a.m. on Friday, July 14.
Formed in 1971, the Eagles have sold more than 150 million albums worldwide, scored six No. 1 albums and topped the singles chart five times. The band has earned six Grammy Awards and was inducted into the Rock & Roll Hall of Fame in 1998.
The band's Greatest Hits album is the best-selling record in history, having gone platinum 38 times. Hotel California isn't far behind it, coming in as the third best-selling U.S. album in history.
More tour dates will be announced once arenas and stadiums are booked, the band said, with the tour expected to continue into 2025.
The Eagles "The Long Goodbye" 2023 tour dates
Sept. 7: New York
Sept. 11: Boston
Sept. 16: Newark, New Jersey
Sept. 20: Belmont Park, New York
Oct. 5: Denver
Oct. 9: Indianapolis
Oct. 13: Detroit
Oct. 17: Cleveland
Nov. 2: Atlanta
Nov. 7: Charlotte, North Carolina
Nov. 9: Raleigh, North Carolina
Nov. 14: Lexington, Kentucky
Nov. 17: St. Paul, Minnesota